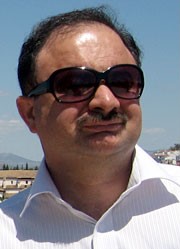 Muhammad Haroon Khan
Director of Recruitment & Business Resilience (GDPR)

Muhammad Haroon Khan's expertise and experience spans the entire spectrum of business resilience services covering both physical and virtual domains. Haroon started his career with the Pakistan Army, and after a distinguished career spanning two decades, with postings in Africa and the Middle East, he moved on to work as a senior executive with the Emirates Airlines.
After that, as a country security manager for British American Tobacco (BAT) in Pakistan, Haroon Khan was instrumental in protecting the business in an extremely difficult and challenging security environment. In 2009, Haroon was promoted by BAT and moved to the United Kingdom to take up responsibility for ensuring business continuity and security of British American Tobacco's Corporate, Duty-Free and Western European entities. Haroon is the first Asian security executive to have been selected for a position in Europe.
In 2014, after five highly successful years in BAT, Haroon decided to move into the security consultancy business and as head of a security consultancy practice advised major multinationals operating in the UK and the Middle East on all aspects of security and business resilience including cyber security, business continuity, fraud protection, etc.
Muhammad Haroon Khan, who is resident in the United Kingdom, has an MBA from Warwick Business School and an MA in Terrorism and Counter-Terrorism from Kings College London. He also holds major industry credentials in the fields of cyber/information security, business continuity, fraud control/management, counter-terrorism and security.
MITIGATING RISK & SECURING BUSINESS
Proven Return on Investment
Atlanta  •  Bogotá  •  Buenos Aires  •  Chicago  •  Cincinnati  •  Cleveland  •  Columbus  •  Dubai  •  Hong Kong  •  Houston  •  Lima  •  London  •  Los Angeles  •  Mexico City  •  Miami  •  Milan  •  Mumbai  •  New York  •  Panama  •  São Paulo  •  Tampa  •  Washington DC