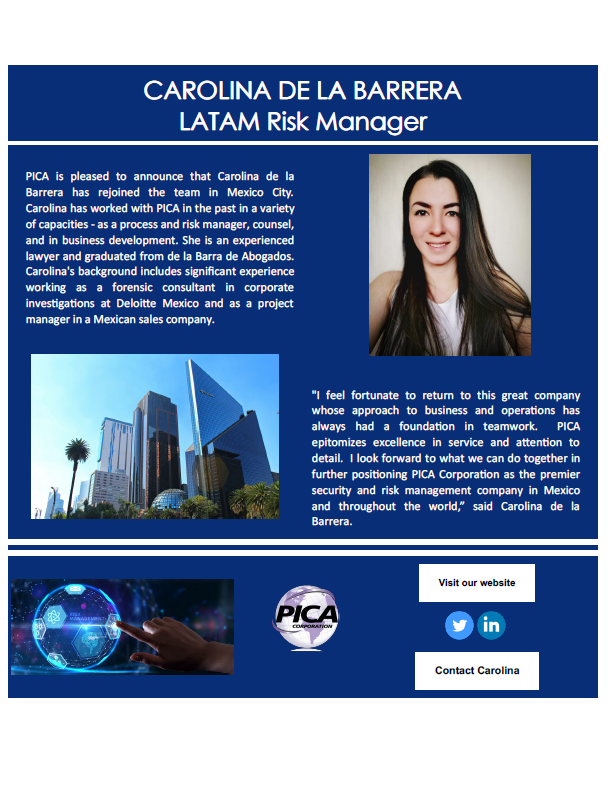 PICA is pleased to announce that Carolina de la Barrera has rejoined the team in Mexico City. Carolina has worked with PICA in the past in a variety of capacities – as a process and risk manager, counsel, and in business development. She is an experienced lawyer and graduated from de la Barra de Abogados.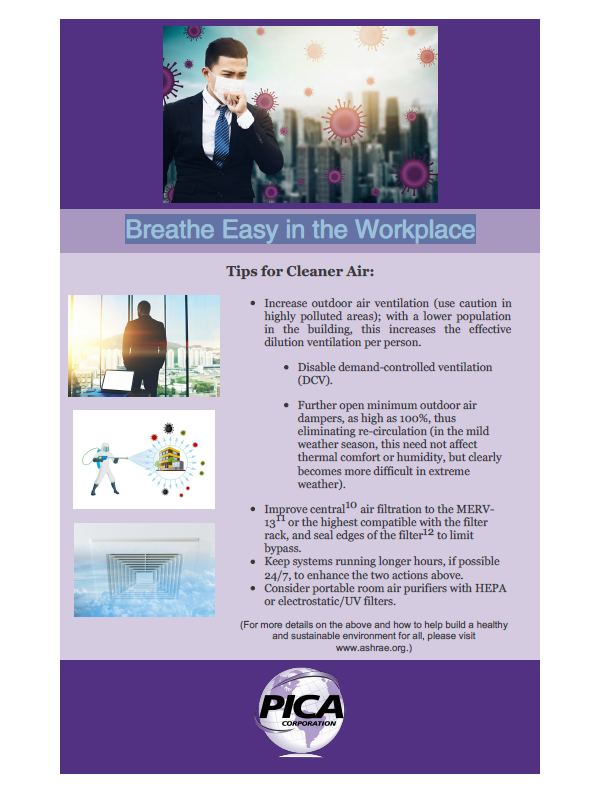 Some Tips from our team for cleaner air in the workplace. Together we can achieve our goals.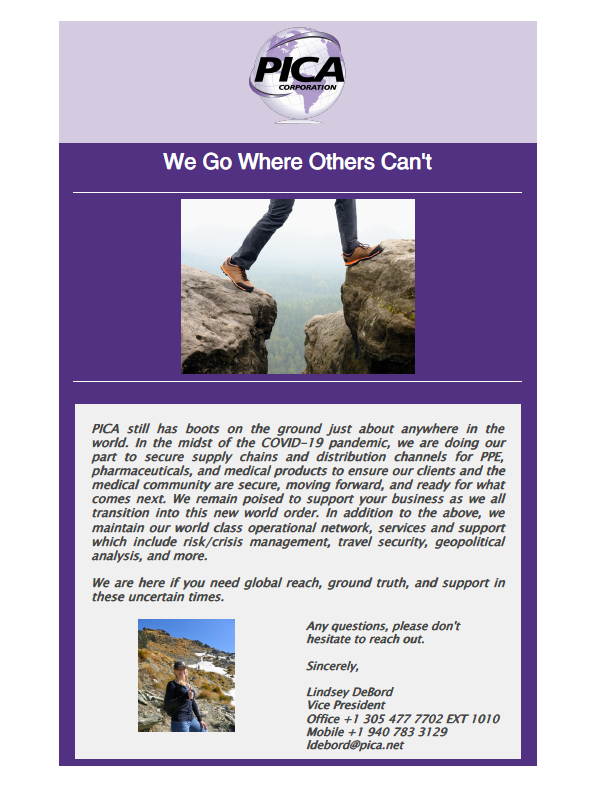 PICA still has boots on the ground just about anywhere in the world. In the midst of the COVID-19 pandemic, we are doing our part to secure supply chains and distribution channels for PPE, pharmaceuticals, and medical products to ensure our clients and the medical community are secure, moving forward, and ready for what comes next.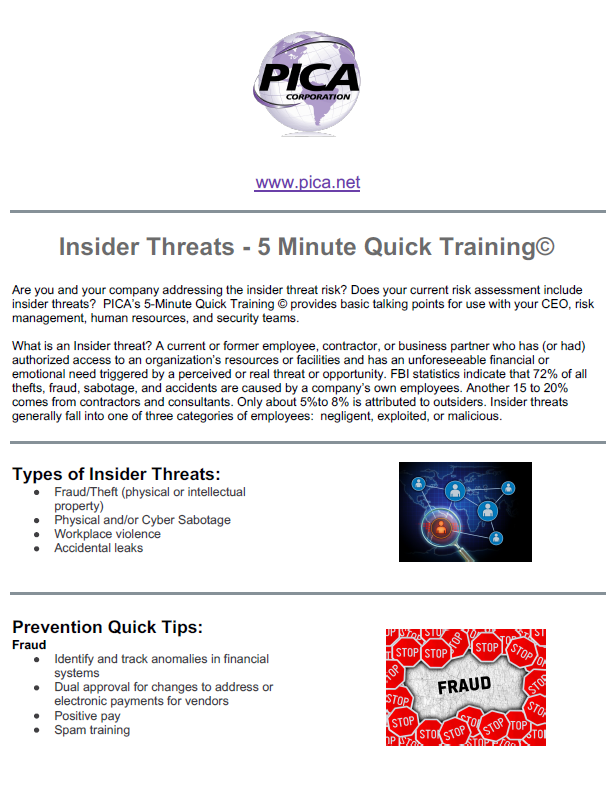 Are you and your company addressing the insider threat risk? Does your current risk assessment include insider threats? PICA's 5-Minute Quick Training © provides basic talking points for use with your CEO, risk management, human resources, and security teams.
Travel Security and Safety Pre-travel Preparation to Mitigate Risks: When supporting employees travelling abroad, we recommend a holistic approach to employee safety and security while travelling, especially internationally.
PICA will be presenting an ASIS Webinar called "Brand Integrity, Supply Chain & Distribution Channel Security as a Means to Grow Market Share" on Wednesday, 16 October 2019 3-4 PM EDT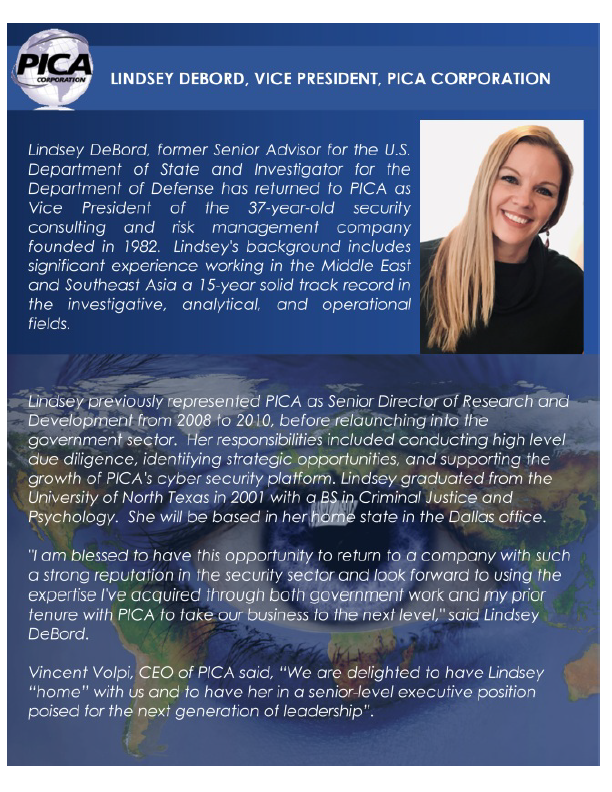 Lindsey Debord former senior advisor for the U.S. Department of State and Investigator for the Department of Defense has returned to PICA as Vice President of the 37-year -old security consulting and risk management company founded in 1982.
The May 30, 2017 United States Supreme Court decision in the case of Impression Products v. Lexmark International US says patent owners may not prosecute infringement actions for products first sold outside the United States under patent-owner authority.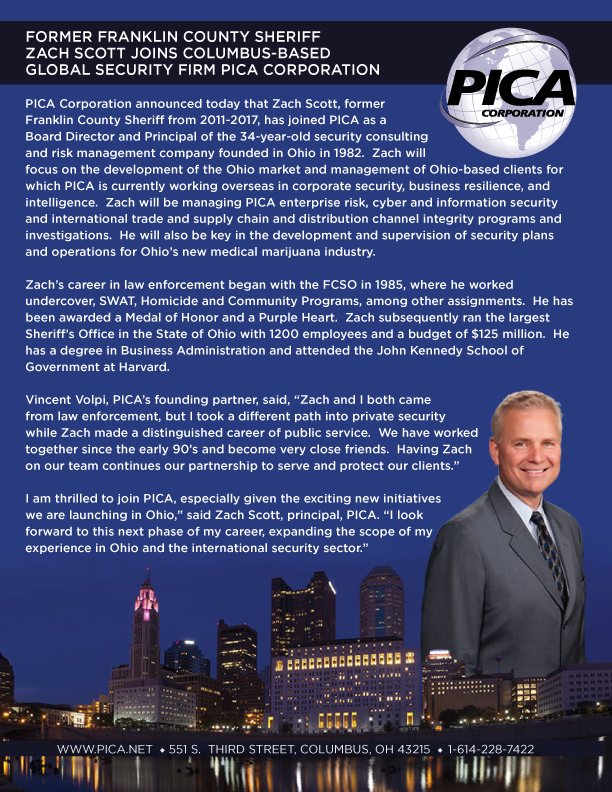 PICA Corporation announced today that Zach Scott, former Franklin County Sheriff from 2011-2017, has joined PICA as a Board Director and Principal of the 34-year-old security consulting and risk management company founded in Ohio in 1982.  Zach will focus on the development of the Ohio market and management of Ohio-based clients for which PICA is currently working overseas in corporate security, business resilience, and intelligence.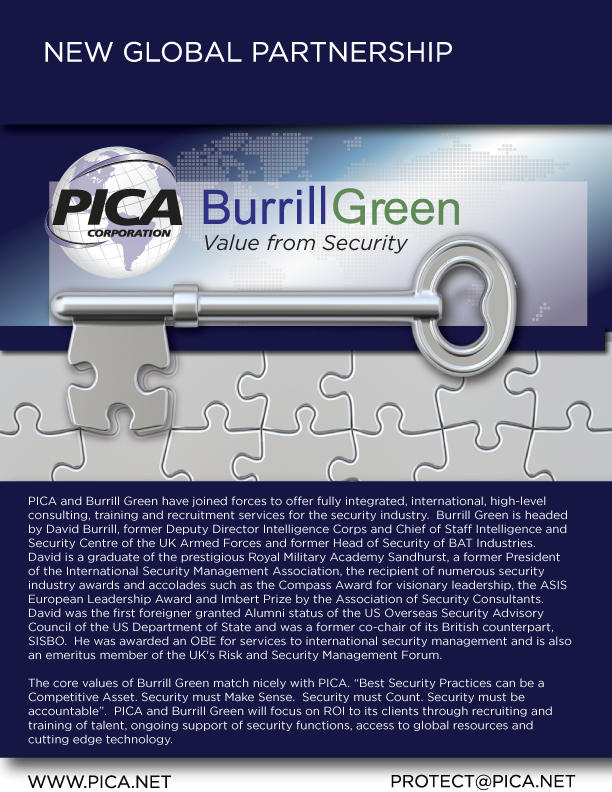 PICA and Burrill Green have joined forces to offer fully integrated, international, high-level consulting, training and recruitment services for the security industry.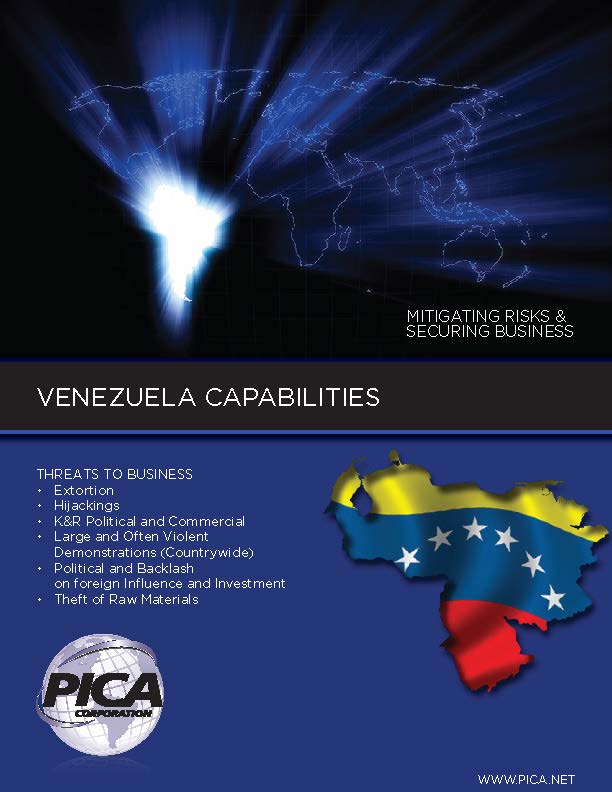 As the geo-political atmosphere continues to deteriorate in Venezuela, threats to foreign business operating in-country are on the rise. Large countrywide, violent demonstrations are common and companies' amplified exposure to extortion, hijackings, kidnap and ransom, and theft of raw materials are major threats to business. From conducting complex investigations to providing secure transportation in armored vehicles; PICA is well positioned to support client needs throughout the country.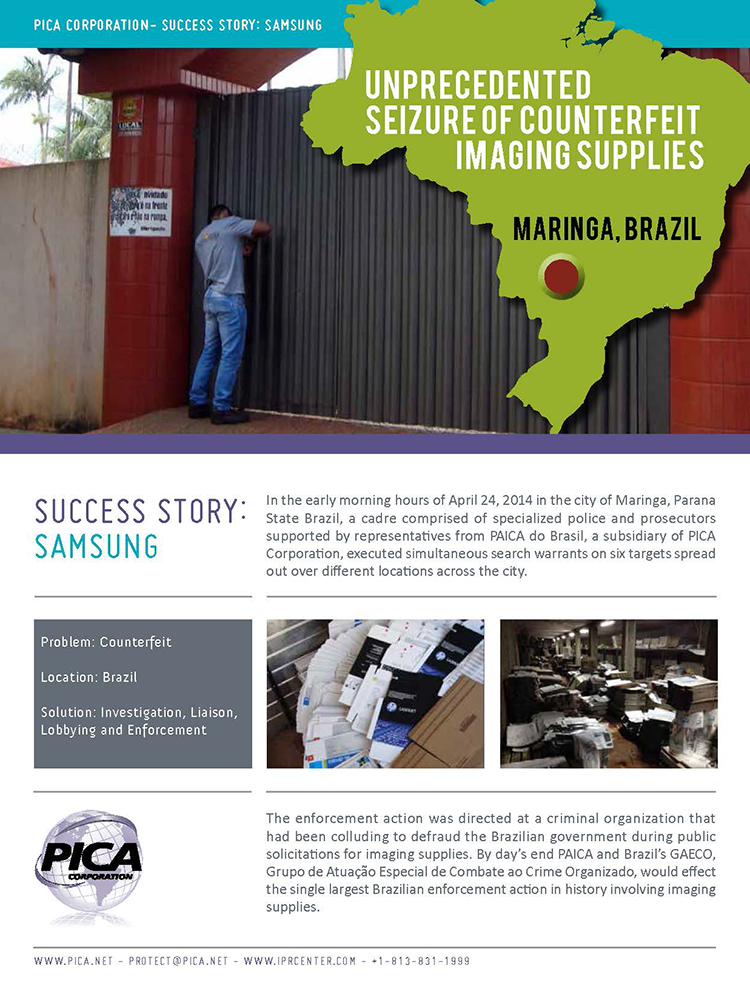 The enforcement action was directed at a criminal organization that had been colluding to defraud the Brazilian government during public solicitations for imaging supplies. By day's end PAICA and Brazil's GAECO, Grupo de Atuação Especial de Combate ao Crime Organizado, would effect the single largest Brazilian enforcement action in history involving imaging supplies.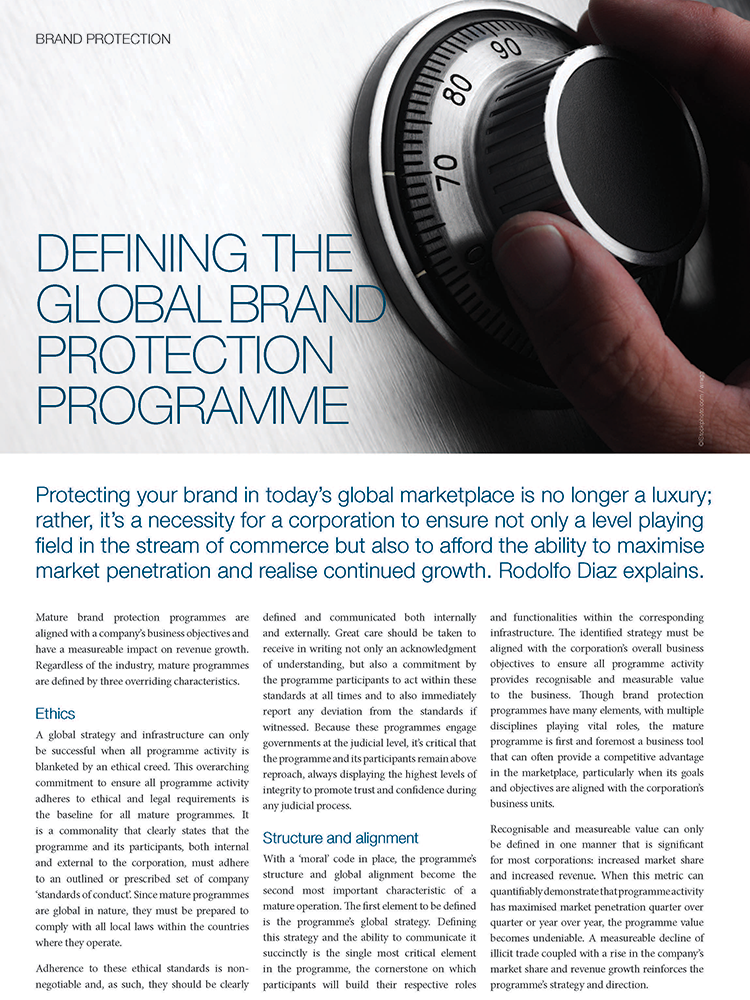 Protecting your brand in today's global marketplace is no longer a luxury; rather, it's a necessity for a corporation to ensure not only a level playing field in the stream of commerce but also to afford the ability to maximise market penetration and realise continued growth.
Rodolfo Diaz, World Intellectual Property Review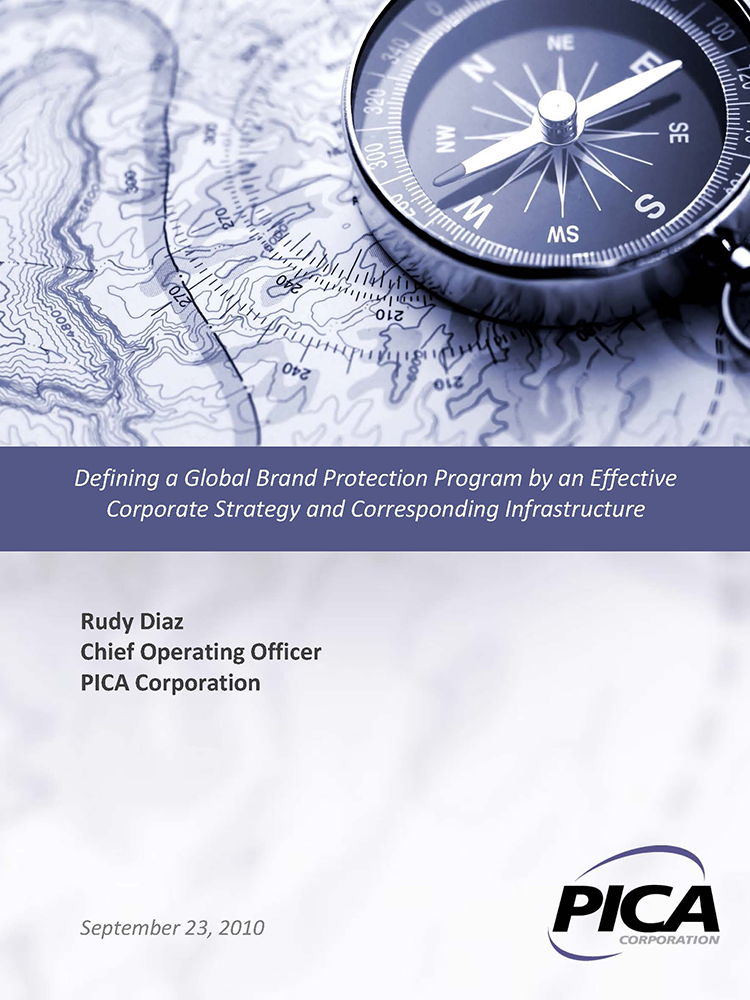 Protecting one's brand in today's global market place is no longer a luxury to be considered; but rather a necessity for a corporation to ensure not only a level playing field in the stream of commerce but also to afford the corporation the ability to maximize market penetration realizing continued growth.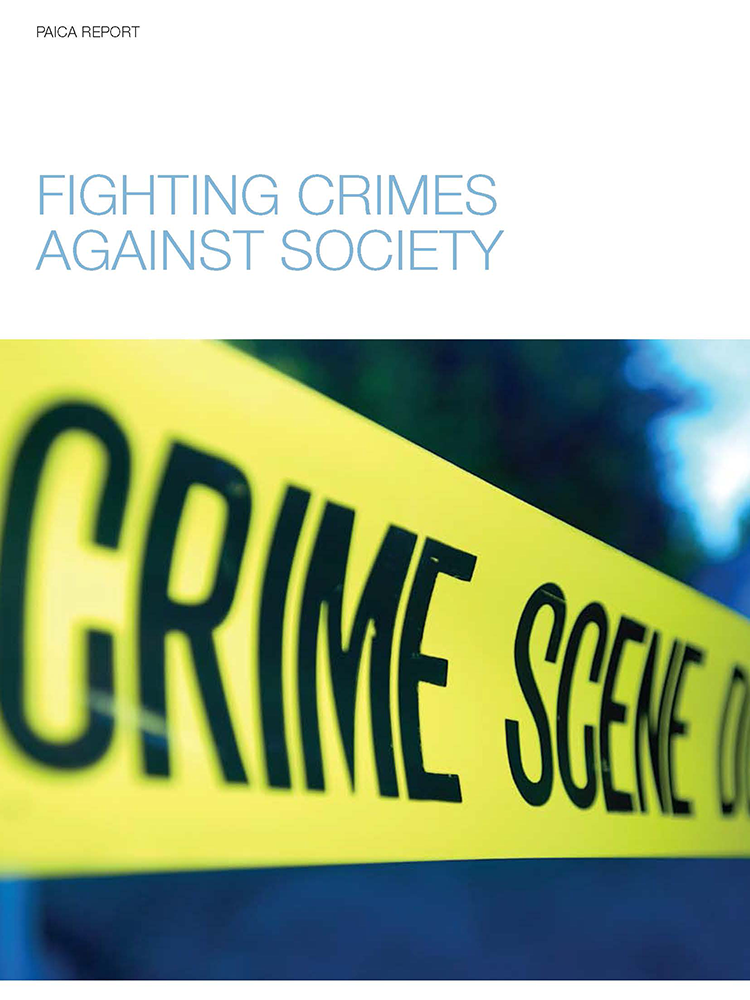 Counterfeiting and piracy operations are more than a crime against the owners of intellectual property – the whole of society suffers as a result, says Olavo Sant'Anna.
Olavo Sant'Anna, World Intellectual Property Review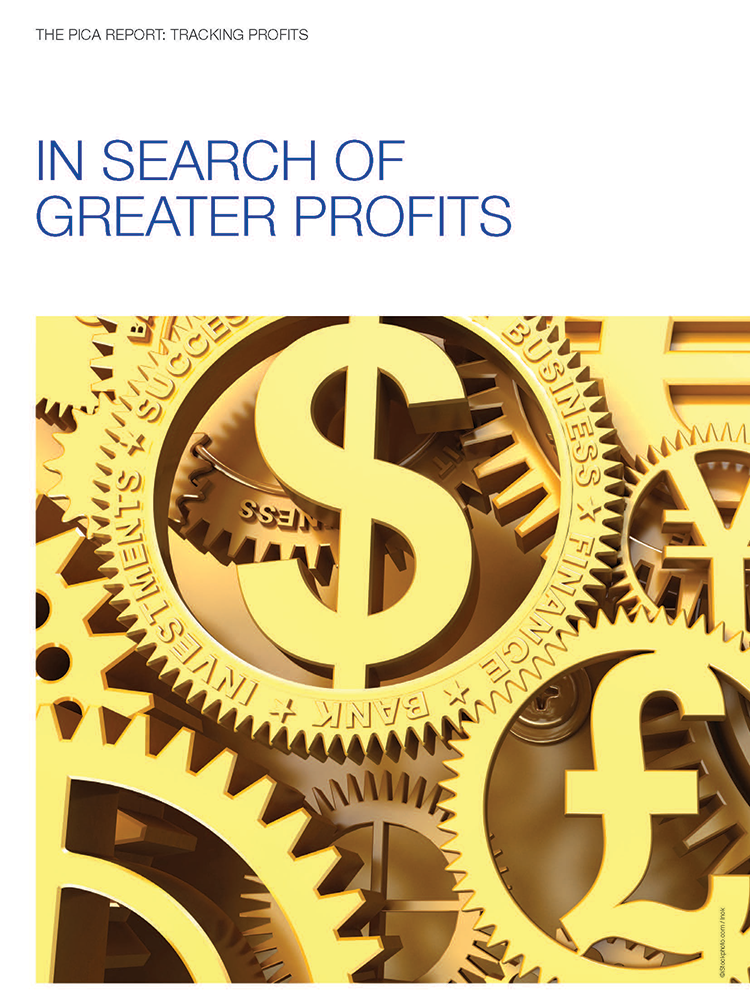 At a time when businesses are exploring almost every option to help them stay profitable, many are ignoring the big gains that can be made by tackling grey market trading, says Richard Bergner.
Ricard Bergner, World Intellectual Property Review.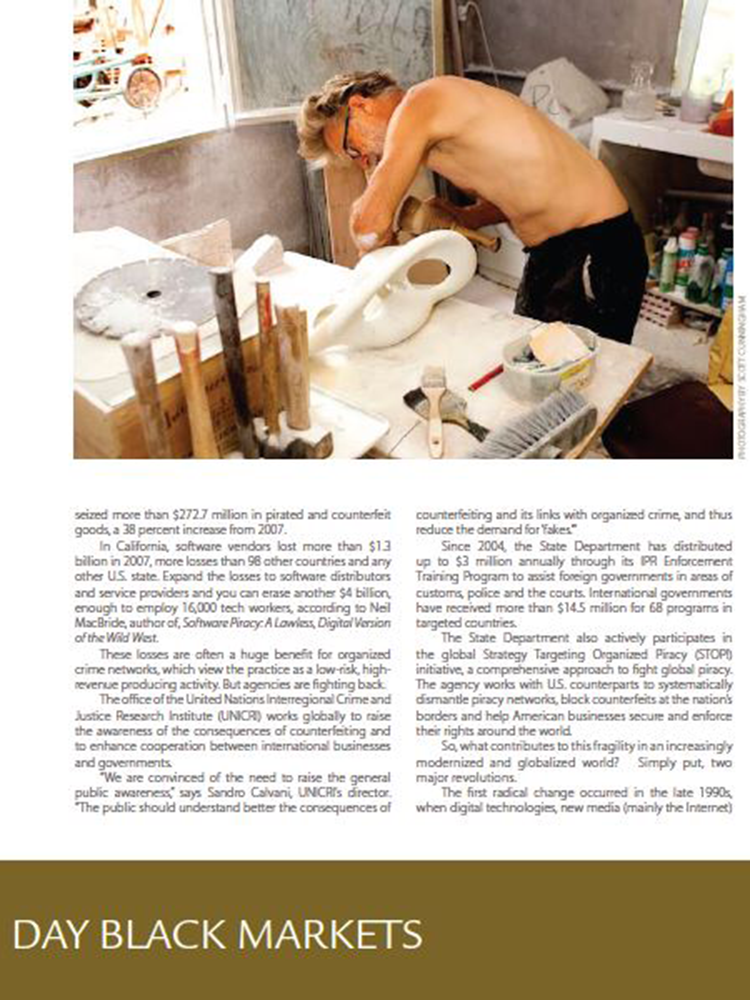 Industry experts explore the realities and ramifications behind the world's black markets and intellectual property rights.
Vincent Volpi, Juan David Castro GarcÍa & TC Brown, CMH Magazine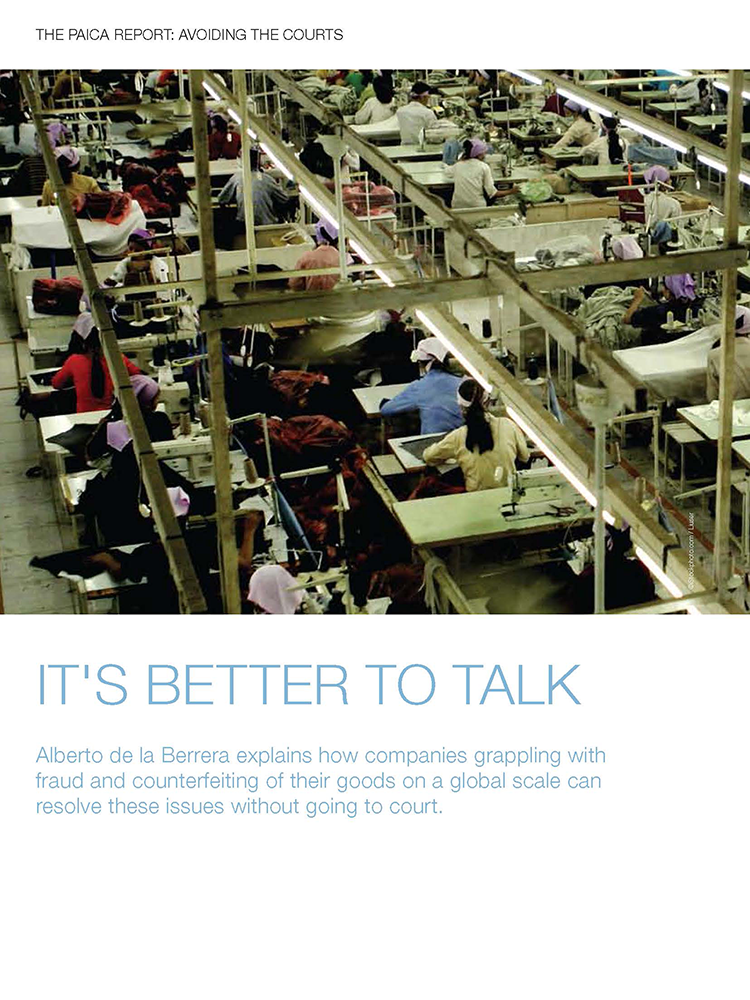 Alberto de la Berrera explains how companies grappling with fraud and counterfeiting of their goods on a global scale can resolve these issues without going to court.
Alberto de la Berrera , World Intellectual Property Review.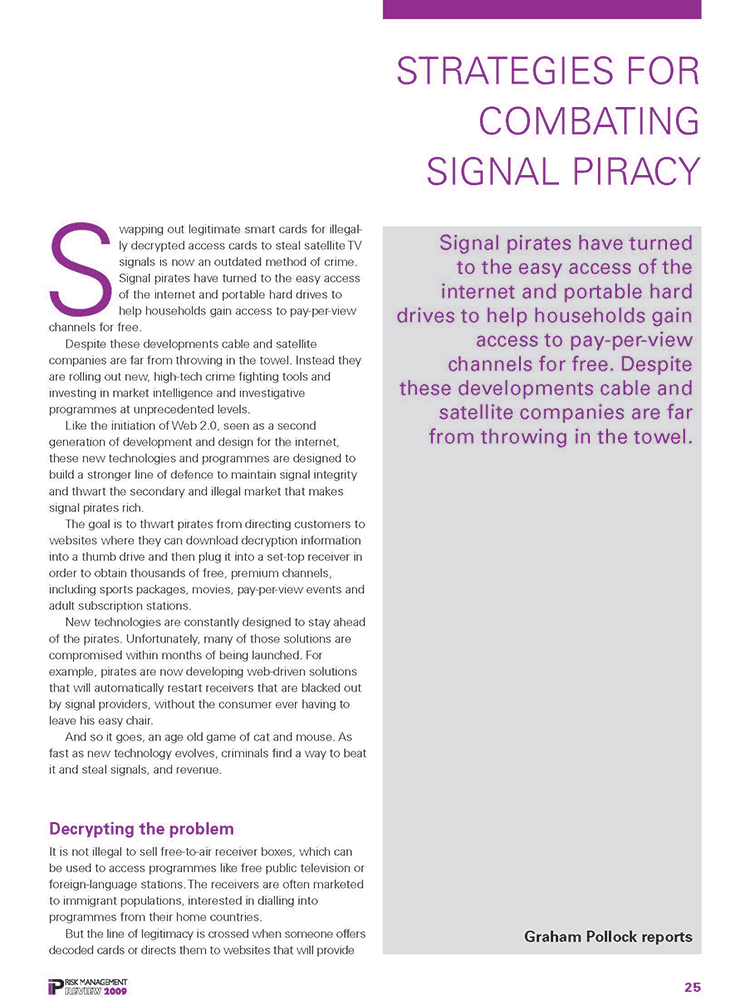 Signal pirates have turned to the easy access of the internet and portable hard drives to help households gain access to pay-per-view channels for free. Despite these developments, cable and satellite companies are far from throwing in the towel.
Graham Pollock, IP Risk Management Review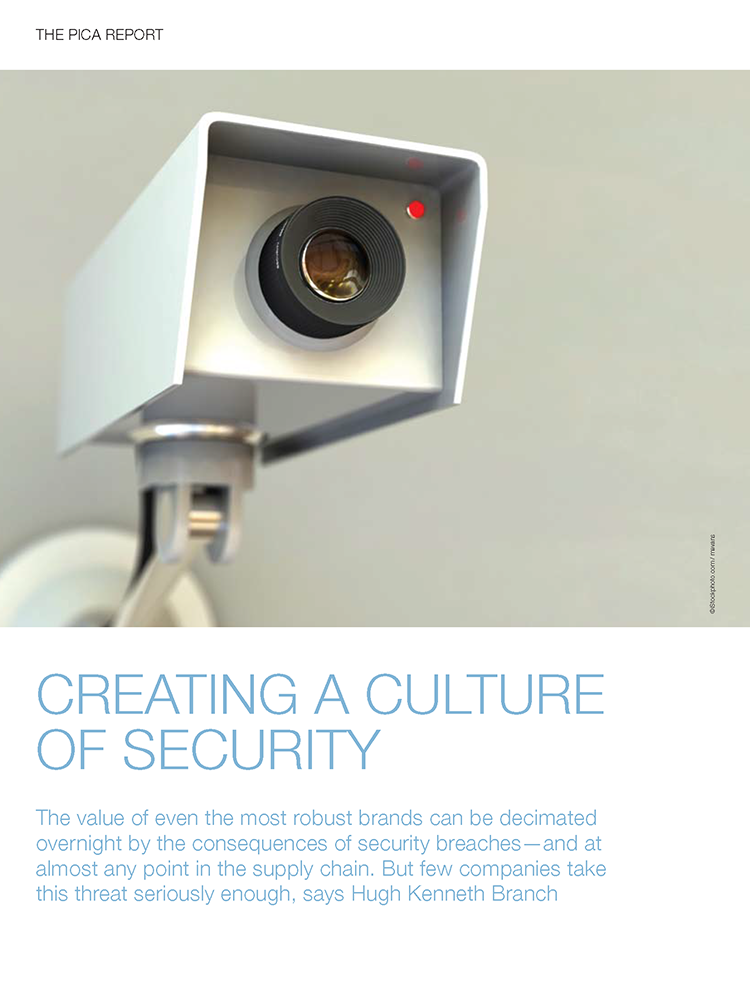 The value of even the most robust brands can be decimated overnight by the consequences of security breaches—and at almost any point in the supply chain. But few companies take this threat seriously enough, says PICA Corporation.
PICA Corporation, World Intellectual Property Review.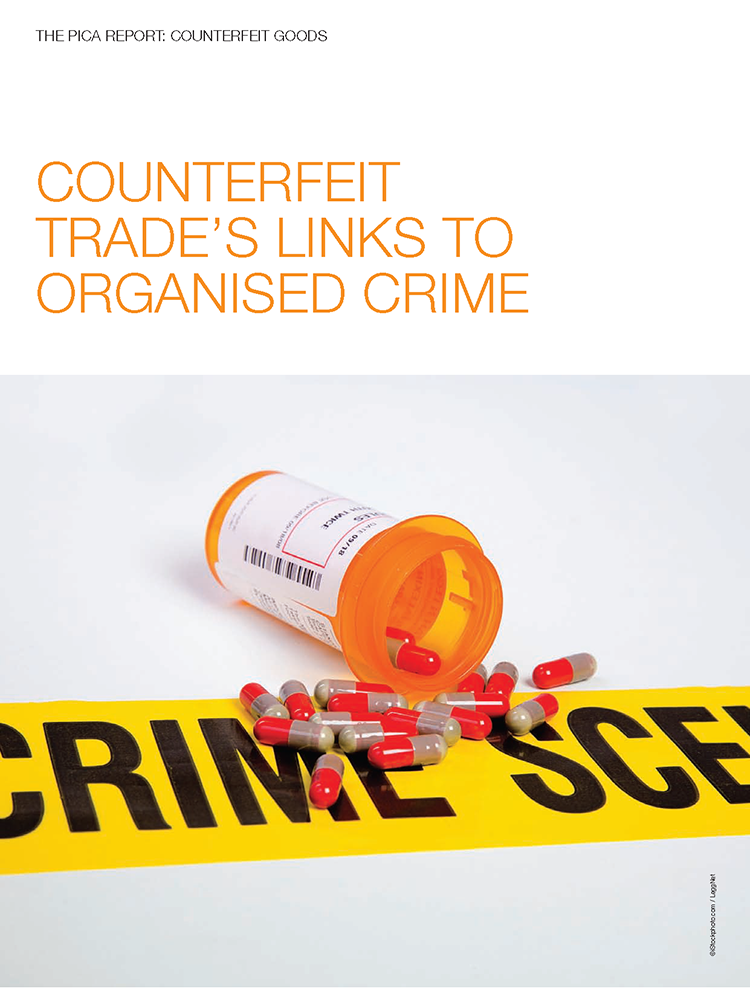 The scale of counterfeit goods being traded globally is not only reaching dangerous levels in terms of its economic impact; clear links to the criminal underworld and terrorism are also increasingly behind the trade.
David Suzuki with TC Brown, World Intellectual Property Review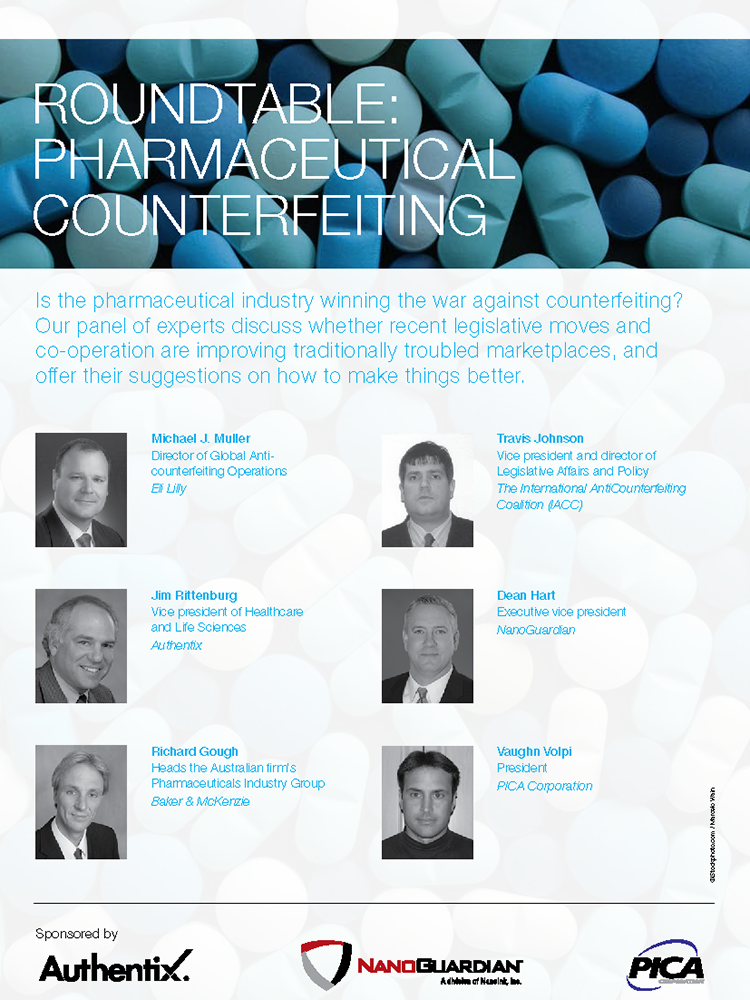 Is the pharmaceutical industry winning the war against counterfeiting? Read what the experts have to say in World Intellectual Property Review.
PICA Corporation, World Intellectual Property Review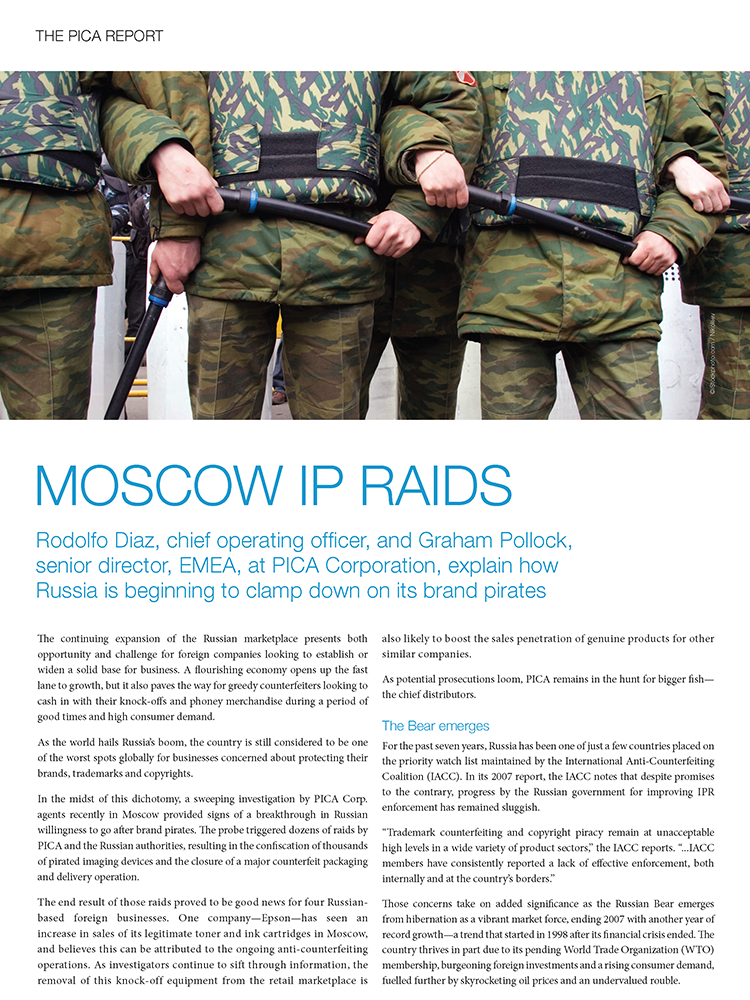 Rodolfo Diaz, Chief Operating Officer, and Graham Pollock, Senior Director, EMEA, at PICA Corporation, explain in World Intellectual Property Review how Russia is beginning to clamp down on its brand pirates.
Rodolfo Diaz and Graham Pollock, World Intellectual Property Review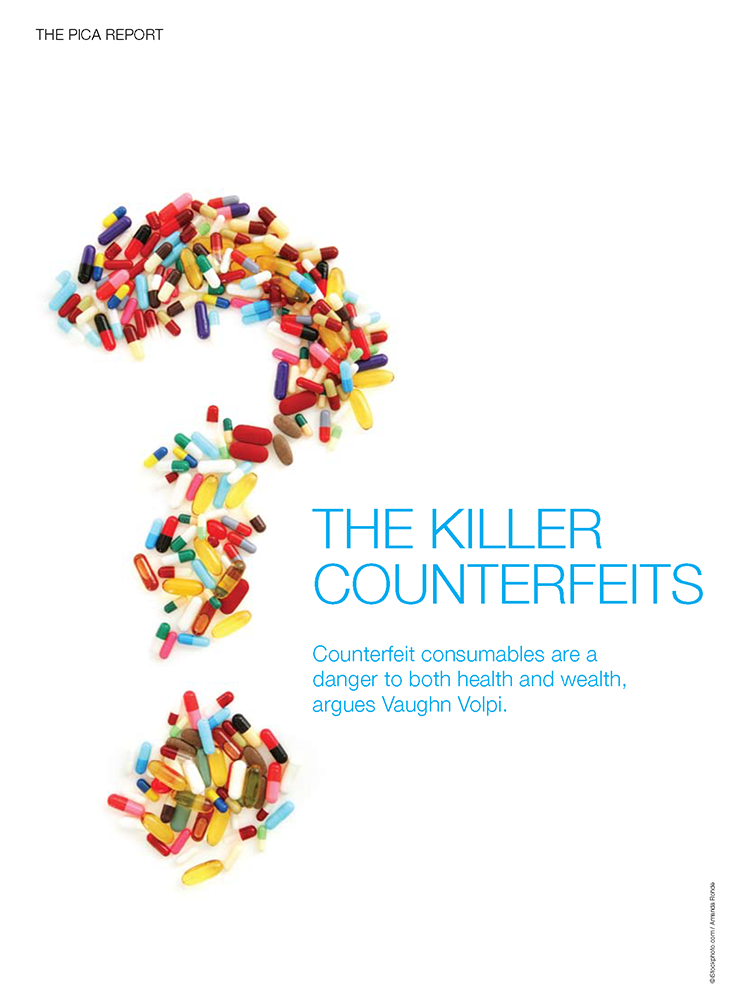 Counterfeit consumables are a danger to both health and wealth, argues Vaughn Volpi.
Vaughn Volpi, World Intellectual Property Review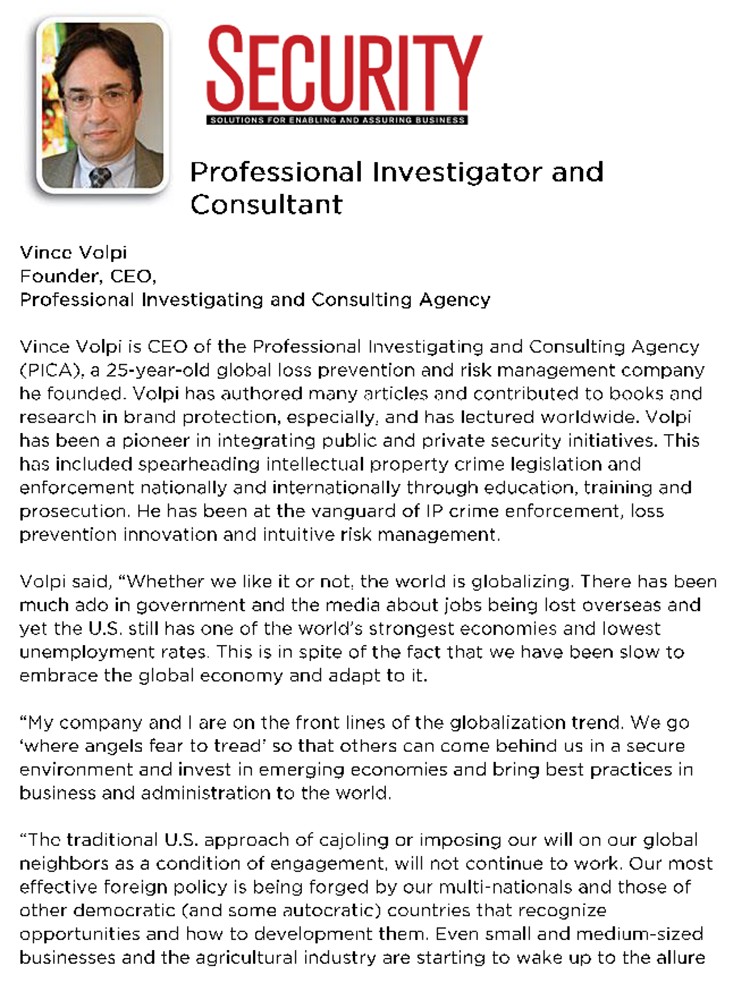 PICA Corporaiton's CEO Vincent Volpi nominated as Security Magazine's Top 25 People in Security.
MITIGATING RISK & SECURING BUSINESS
Proven Return on Investment
Atlanta  •  Bogotá  •  Buenos Aires  •  Chicago  •  Cincinnati  •  Cleveland  •  Columbus  •  Dubai  •  Hong Kong  •  Houston  •  Lima  •  London  •  Los Angeles  •  Mexico City  •  Miami  •  Milan  •  Mumbai  •  New York  •  Panama  •  São Paulo  •  Tampa  •  Washington DC