Intelligence wins wars and separates friends from foes.  Whether you are hiring a new employee, investigating liability claims or screening a potential new customer, the ability to conduct effective background research can reduce your risk and improve your productivity.
A good background investigation program has been demonstrated to reduce theft in the workplace, absenteeism, worker's compensation claims, morale and production issues.  While companies offer basic background services, most HR departments have policies of providing only limited information and most public databases are fragmented and do not contain comprehensive information.
PICA draws on its three decades of experience and vast resources to deliver extra value in background research.  PICA has access to most proprietary databases currently available and utilizes these in combination with a unique business system and methodology which gets the most from them.  Additionally, PICA focuses on the human intelligence aspect of background investigations and doesn't solely rely on databases and simple Internet searches to probe the depths of a subject's history.
Many firms offer background information.  There's only one that marries the technology, public and proprietary data sources and human intelligence aspect that can deliver on a global basis, and that is PICA, your powerful and creative business partner, anywhere in the world.
BONDHOLDER'S BACKGROUND KEY IN VALIDATING MILLIONS IN SECURITIES
In one of the most comprehensive background investigations in its history, which spanned three continents, PICA determined that the history of a key figure holding bonds that were the focus of a securities fraud had no bearing on the validity of the bonds being offered for sale.  PICA was also able to help validate the origin of the bonds, details surrounding the securities fraud and the authenticity of the securities.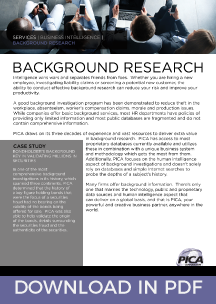 MITIGATING RISK & SECURING BUSINESS
Proven Return on Investment
•  Atlanta  •  Bogota •  Buenos Aires  •  Chicago  •  Cincinnati  •  Columbus  •  Dallas  •  Lima  •  London  •
•  Los Angeles  •  Mexico City  •  Miami  •  New York  •  Panama  •  Tampa  •