With the trend toward global manufacturing and development of emerging markets, PICA is able to provide corporate profiling and due diligence services virtually anywhere in the world, through its network of offices in over 200 venues worldwide. PICA can be your local resource wherever "local" might be and deliver its services as your in-country business partner to your affiliates anywhere in the world.
The only true way to limit risk in decision-making is to make informed decisions. PICA delivers the means to make informed assessments of potential customers, suppliers, licensees/agents, distributors, potential joint-venture partners, subsidiaries or merger and acquisition candidates.
As an expert Corporate Profiling resource for research and investigations, PICA provides independently verified, decision-critical information.
In more extensive due-diligence cases, PICA conducts in-depth research and investigations to establish the suitability of a prospective partner in a new commercial relationship. In addition to traditional public record research, PICA uses a variety of techniques to determine whether the target company has a suitable track record, and whether they are capable or as successful as they say they are. PICA delivers a full view of what is actually "behind the balance sheet."
DUE DILIGENCE BY GLOBAL TELECOM COMPANY AIDS GROWTH
Through a partnership developed with PICA, a global telecom company's incidences of fraud have plummeted, and productivity has risen as a result of a policy of vetting all key employees, vendors and potential business associates in its international markets.  This has especially reduced fraud and waste in the development of emerging markets, where information on personnel and companies is much more difficult to develop.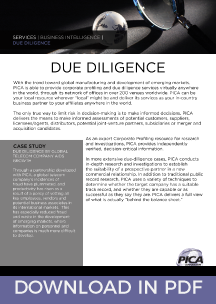 MITIGATING RISK & SECURING BUSINESS
Proven Return on Investment
•  Atlanta  •  Bogota •  Buenos Aires  •  Chicago  •  Cincinnati  •  Columbus  •  Dallas  •  Lima  •  London  •
•  Los Angeles  •  Mexico City  •  Miami  •  New York  •  Panama  •  Tampa  •