PICA has a long history and present depth of resources in retail loss prevention acquired at leadership levels at some of the world's most noted retailers.  Through this expertise we can design a comprehensive Loss Prevention program for a new business, or we can provide ongoing support to existing LP Departments.
We are experts at supporting the client in any or all areas of its Loss Prevention program. If this includes exception based reporting, PICA can provide reliable software options, support the implementation phase and conduct data mining.  If training and awareness programs need support, we can design and recommend solutions that add value.  If "feet on the ground" are needed for an investigation, we can utilize our network to provide immediate results.  PICA can also support pre-employment screening, business abuse hotlines and policy and procedure development. In addition, PICA can provide instant solutions and audit mechanisms to ensure compliance.
PICA is aware that no two businesses are alike.  We will meet with your leadership group and customize a program and/or solutions that fit seamlessly into the culture of your organization.
PICA HELPS INTERNATIONAL LUXURY GOODS RETAILER GO PUBLIC
Starting with a relationship that began with brand protection, PICA worked with one of the premier luxury good retailers in the world to evaluate their operations from sourcing to retail, on five continents, and included administrative, financial and computer systems, to prepare the company for a public offering.  PICA identified and documented tens-of-millions of dollars in opportunities to reduce fraud and waste, and to support the expansion into emerging markets.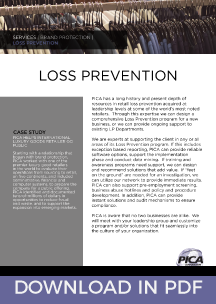 MITIGATING RISK & SECURING BUSINESS
Proven Return on Investment
•  Atlanta  •  Bogota •  Buenos Aires  •  Chicago  •  Cincinnati  •  Columbus  •  Dallas  •  Lima  •  London  •
•  Los Angeles  •  Mexico City  •  Miami  •  New York  •  Panama  •  Tampa  •